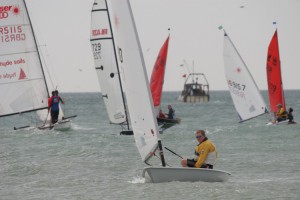 Dinghy racing predominantly takes place on Sundays between March and October.  Wednesday evening racing takes place during the summer months.
During the summer months we hold our WOW (Women On Water) sessions on Thursday evenings.
Friday nights during the summer are cadet nights – where you can learn to sail and improve your skills in a safe, structured manner.
We have informal sailing sessions on Saturdays from May to October which we call "Skills Saturdays"
Racing
The club promotes general handicap and class racing with fast and slow fleets and individual trophy events. All skill levels are catered for from expert to beginner and coaching courses are arranged at least once a year.
Racing is also held on Wednesday evenings from first week in May to the first week on September.  The race starts at 7.00pm prompt.
Felpham Sailing Club is a RYA Training Centre and have also achieved the RYA Onboard Status and Volvo Championship Club award.
Informal sailing
Informal sessions take place on a Saturdays, usually suited to low tides.  These sessions give sailors time to go out and practice with the security of safety craft.    Experienced sailors are happy to pass on their knowledge to others within the club on specific subjects, e.g., use of spinnaker, mark rounding etc.
WoW (Welcome on Water)
Following the success of "Women on Water" for over ten years at Felpham Sailing Club and the introduction of "Men on Boats" we have now merged these two events into Welcome on Water (WoW).  WoW is held on Thursday evenings for adults and is aimed at improving your sailing with a small amount of instruction.
Cadets
Friday night is cadet night which run from May to September, weather dependent.  More information can be found in the cadet section of this site.
Boat Hire
Boat hire is available to members – see the boat hire page for more details.
Championships
Felpham Sailing Club is able to host national events, having hosted the Solo Nationals, the Blaze Nationals and the Contender Nationals in recent years. During 2015 we hosted the West Sussex Schools Youth Sailing Association (which involved just under 100 boats), the Tasar Nationals and the Solution Nationals.
If you are looking for a sea venue for a dinghy class event, please get in touch.